I see the strange situation that some (but not all) first tracks of different downloaded music albums can't be moved to my PC.
If I check this first track on the Synology NAS, I see that there is NO OWNER and there are no access rights set.
The properties window for the folder says the owner is "sc-sabnzbd", but the detailed access right verification shows no owner and no access rights.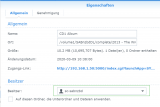 What could be the reason that only affects the first track and only for some albums?
How can I fix that (other then manually inherit the access rights from the \complete folder to all subfolder and files)?
Infos about SABnzbd on my DS412Plus NAS:
Version: 2.3.9 [03c10dc]
Python Version: 2.7.14 (default, May 28 2018, 14:47:18) [GCC 4.7.3 20130102 (prerelease)] [UTF-8]
OpenSSL: OpenSSL 1.0.2n 7 Dec 2017
Rechte für fertige Downloads: 777