NZB 360 For Android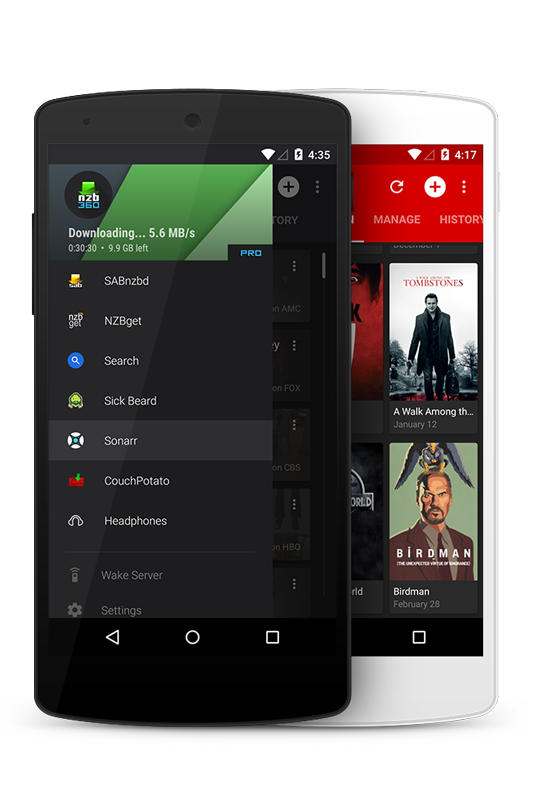 Download here: http://nzb360.com
NZB 360 is a full-featured NZB manager that focuses on providing the best experience possible for controlling all of your NZB needs.
Currently Added Services:
SABnzbd
NZBget
Sick Beard
NzbDrone
CouchPotato
Newznab
Headphones
Main Features:
Merges all of your NZB-related needs into one beautifully designed and executed experience.
Switch between services simply and quickly, without needing to getting lost in the navigation.
Nexus 7 support with layouts designed specifically to bring easy navigation to the Nexus 7.
Extremely fluid and snappy interface.
SABnzbd Features:
Elegant and informative UI, which brings out subtle information.
Pause/delete items within your queue.
Set categories for items in queue.
Reorder items in queue.
Full status of items in history.
Delete items in history.
Innovative quick Speed Limit Threshold set menu.
Pause/Resume entire queue.
Add NZB by file or url.
Associates with NZB files.
Adjustable UI refresh rate.
SSL support.
Wake On Lan (WOL) support.
NZBMatrix Features:
"Sexy Movie Layout" uses special parsing techniques to create a beautiful and functional experience when browsing NZBMatrix's Movie content.
[IMDb / Comments / NFO / Related Items] are all accessible when viewing any movie within NZBMatrix.
Comments are available when viewing all NZBMatrix content.
"Search More Like This" feature inside of Movie category.
Bookmark support.
Search entire NZBMatrix index.
Supports all main and sub-category RSS feeds.
Quickly send any NZBMatrix content directly to SABnzbd.
Sick Beard Features:
Beautiful, XBMC-inspired interface for all TV Show content.
"Airing Soon" view informs you know when all of your shows air next.
"Missed" view allows you to see any shows that Sick Beard has not yet snatched, with the ability to quickly search for those episodes.
Multiple view layouts for shows.
Elegant and easy to use episode manager, which utilizes batching functionality to quickly and easily manage all of your episode content.
Quick searches for individual episodes.
SSL Support.
More to come!
CouchPotato(v2) Features:
Beautiful, XBMC-inspired interface for all Movie content.
Add new movies.
Edit movies.
"Wanted, Available, Manage, and History" views.
"Available" tab lets you quickly see which movies have releases available to download.
"History" tab allows you to see which releases CouchPotato has recently downloaded.
Force release search.
Manage all list content (with the ability to remove items).
Restart CouchPotato support.
SSL support.
View movie details (plot, runtime, Directors, Actors, etc).
If you end up downloading NZB 360, please let me know what you think! Thank you.