Ever wanted to access content not indexed by the usual nzb sites, run a public nzb index of your own, or create a private index which you can program against?
Around the time that newzbin went down, a few people were discussing the pain of having written apps which interact with the big usenet indexers via apis, only for the site to go down and the work be wasted. Whilst there was a couple of notable GPLd indexing sites like Ikbin and URD, a couple of people decided to go about writing a new usenet index site, with community features which would have a similar effect that tbsource did to torrenting sites. Something that could be fairly easily installed on a home NAS or web server, churn out nzbs in a user friendly format and work directly with sabnzbd, creating a slick way to find and request usenet content from one interface.
As nzbs.org is the best nzb site on the web :-), we took as many of its features, clean interface and all round goodness and tried to roll it into an application called newznab.
Now newznab is getting fairly stable, it seemed like a good idea to tell a few people about it.
The technology stack is PHP/Smarty application, a mysql database with gzipped nzb files and a simple web based search interface onto the data. It is supported natively by Sickbeard, CouchPotato and Newsflash+ via a pretty comprehensive api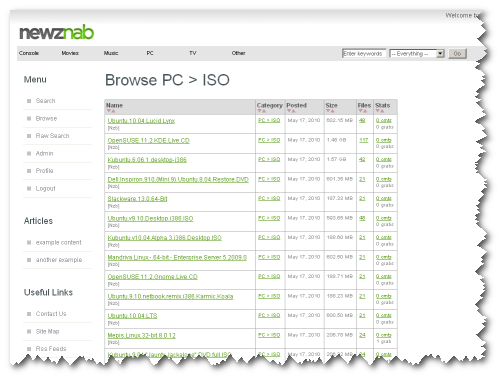 We offer newznab in two versions, the classic version with all the features to get an index up and running (and is GPL so you can repurpose it as you wish), and the newznab plus edition, which incorporates many extra features such as deep rar password inspection, mediainfo integration, thumbnailing previews of video, audio previews, memcache support and access to many more groups and much more. we ask for a small donation for newznab plus.
Our irc presence is on irc.synirc.net #newznab